It's WHOOOOOOP! Time at Wonderland: The inimitable Paddy (that's Patrick to you) has joined the Wonderfam as a senior consultant.
Alison and Jemma have had the pleasure of working with Paddy in a previous life, and we're all delighted to welcome his booming laugh, hilarious raving anecdotes, and general all-round funny / creative / positive vibes.
So here's Paddy's 10 Things, from hanging with hippos to falling over – enjoy.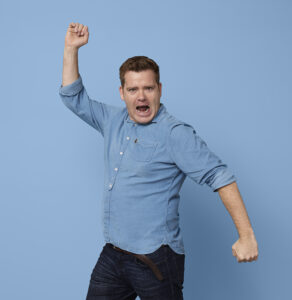 Ich bin ein Hamburger – I was born in Hamburg, Germany
I love rugby – I used to play a lot, but stopped because raving was more fun
I've got a degree in environmental management from UWE
I love watching films – the more random the better
If I wasn't working in PR, I'd probably be a teacher – I quite like the idea of combining the two some day…
I once came face to face with a hippo while swimming in a lake
I am seriously clumsy, there are a lot of photos where I am literally falling over, I think my daughter has inherited it from me…
My first client in PR was Coca-Cola back in 2001
Aged 11, I went to live with my friend and his family in Sydney Australia for four months (it was amazing!)
I've lived in Bristol for the last 13 years, it's an awesome place to bring up kids