YO! CONSUMER PR SENIOR ACCOUNT DIRECTORS! OVER HERE!
We're Wonderland. A communications agency where creativity and curiosity rule, people come before profit, and time sheets, pointless paperwork and horrible hierarchies aren't a thing.
We're looking for a new person, maybe even two – who'll probably be a Senior Account Director at the moment – to be part of our bold, brilliant, supportive, sweary, crisp and chip munching team, doing shit-hot, original, fun and challenging work.
2020 has been a bit of a wack year all things considered, but thanks to said team (and our awesome clients of course), we've managed to weather the storms pretty well and are gearing up for all the new exciting stuff 2021 is gonna throw our way. Which is why we need more Wonderland peeps to join us.
At Wonderland you're free to be who you want, wear what you want, say what you want (within reason: we're also into respect, honesty and zero bigotry), and everyone's voice gets heard.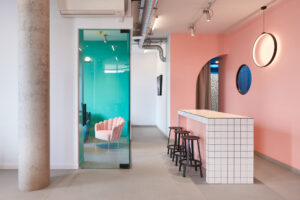 We also offer flexible working, tailored training, pretty great parties, unlimited holiday, a STUNNING office on the waterfront in Bristol (when we're bloody allowed back in it), a focus on nurturing good mental health, and fun – because, let's face it: If you're not having fun, what's the bleedin point?
We're looking for someone who's:
Cool, calm and confident in all stages of running client campaigns, loving and believing in the work you do, and making sure the client feels the same way at every step.
Experienced (as in, 5 years+ experienced) at putting together top-notch strategy and creative campaigns that has everyone high-fiving you for your comms GENIUS, for consumer and lifestyle clients.
Happy getting your hands dirty doing the do, as well as managing clients and teams.
Problem solving, accountable, collaborative, positive and switched on, striving as part of our team to do the right thing in the best way – always.
Right now we're working from wherever – including London, County Mayo in Ireland and Cardiff – but in non-pandemic times we love getting together in person, so being willing and able to travel to our Bristol office regularly is important to us. 
ER, YES PLEASE – WHAT DO I DO NEXT? I hear you say.
Send Rich (
rich@wonderlandcomms.com
) your CV, telling us why you reckon we're a good fit for each other, plus this:
What saved you during lockdown

Curry sauce or gravy on chips (or neither) – discuss

The most OMFG thing you've ever worked on

The most YOU WOT? thing you've ever been asked to do at work (KEEP IT CLEAN, yeah?)
CLOSING DATE: 11th December 2020